"BOKA MARINE"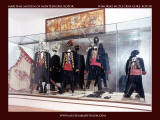 This room is dedicated to the old maritime fraternity -"Boka Marine" ("The Bay of Kotor marine") founded according to a legend at the beginning of the 9th century. In a large glass show-case a visitor can see different uniforms of the members of the "Boka Marine" arranged as to their rank.
From left to right:
1. Admiral's uniform of the "Boka Marine"
2. Captain's uniform of the "Boka Marine"
3. Sailor's uniform of the "Boka Marine"
4. "Junior admiral's uniform of the "Boka Marine"
5. The Flag of St. Tryphon from the first part of the 9th c.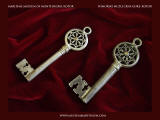 On the wall to the left of the entrance there is an array of photographs of the former admirals of the "Boka Marine".
The central showcase contains the facsimile of the keys of the town of Kotor as well as the photocopy of the Fraternity of St. Nicholas Statute from 1463. Here one can also see "Decoration of Brotherhood and Unity with Gold Wreath' awarded to the "Boka Marine" by the President of SFRY, J.B. Tito on July 25,1972, and an extract from the Book of Visits - a photocopy of Tito's handwriting, on occasion of his visit to the Museum on May 15,1969. In the same showcase there is a copy of the document stating that J.B. Tito had been proclaimed an honorary admiral of the "Boka Marine". The walls are covered with photographs of the jubilees in front of St. Tryphon's cathedral and an imposing array of photographs of "Junior admirals" from the beginning of the 20* century until today
......................................