CENTRAL EXHIBITION HALL ON THE FIRST FLOOR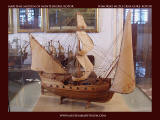 In the central exhibition hall are kept memories of the legendary period from the 16'h to the 18th centuries, when our seamen developed domestic shipping and maritime trade, took active part in building of naval and merchant marines in foreign countries, established new routes of maritime trade and fought against pirates and Turks on the Adriatic and Mediterranean seas.
1. Captain Matija Zmajevic from Perast, admiral of the Russian Baltic fleet during the reign of Petar the Great
2. Captain Petar Zelalic from Bijela. For the courage shown in the battle against pirates he was received into the Order of the Knights of Malta
3. Captain Marko Ivanovic from Dobrota in the battle against pirates off Patrasinl751
4. Portrait of captain Marko Ivanovic from Dobrota, who was killed in the battle waged with pirates in the port of Piraeus in 1756
5. Battle of the brothers Jozo and Marko Ivanovic from Dobrota against pirates in the port of Piraeus, in 1756. (This picture and the one under No. 3 were painted by a Venetian painter, Vincenzo Chilone)
6. Captain Krsto Corko from Perast (end of XVII c.)
7. Casptain Jozo Lukovic from Prcanj in a folk costume (end of XVIII c.)
8. Painting "The Port of Trieste" from 1871 - the work of Vasilije Ivankovic, a sea-painter.
Documents from The Museum Archives The Showcases contain:
1. Copy of the oldest known document on Kotor maritime affairs from 1167
2. Atlas of the Mediterranean made by Antoan Ruo (1764)
3. Privileges (dukals) given to certain communities and families of the Bay of Kotor
Models of Ships
1. Tartana of Dobrota (XVII -XVIII c.)
2. Shambek of Captain Petar Zelalic (XVIII c.)
3. The nava "Leon Coronato" (first half of XVIII c), a sailing ship of Perast
......................................