EXHIBITION OF OLD WEAPONS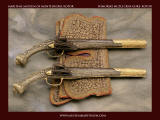 Cold steel and fire arms from the period of XVII-XVIII c. are displayed on 17 panels. The arms are chiefly of the Near Est provenance, used in the past by people of the Bay of Kotor in sea battles against pirates.
Panel 1 - swords and maces (XVI - XIX c.)
Panels 4 and 16 - old rifles with long barrels and curved butts, so called "saralije" (XVII - XVIII c.)
Panels 2,6 and 15 - old rifles with barrels and butts decorated in mother-of-pearl, so called "jeferdars"
Panels 13 and 14 - powder loaded rifles of Austrian origin, so called "stucs" (XIX c.)
Panels 8 and 10 - sabres and knives (XVII - XIX c.)
Panel 9 - rifles with enlarged barrel diameter, so called "trombun" (XVIII and XIX c.)
Panel 7 - old-fashioned guns called "kubure" (XVIII c.)
Panel 5 - knives and "yatagans"- long turkish daggers (XVIII c.)
Panels 11 and 12 - ordinary flint guns (XIX c.)
The showcases contain silver and gold-plated short rifles "ledenice" or "zlatke" (XVIII a), pouches, silver and gold-plated knives, as well as a sei of arms - the gift of the Lazari family of Prcanj.
Two heavy 18lh century rifles, so called "puskoni" and a replica of a 14th century gold cross are displayed on pedestals. The staircase, decorated with pictures of sailing ships owned by captains of the Montenegrin coastal towns during the 19th century, leads to the second floor with naval-technical and historical collections.