DEVELOPMENT OF MARITIME EDUCATION AND BEGINNINGS OF MONTENEGRIN MARITIME AFFAIRS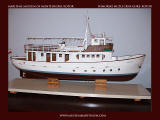 This room is dedicated to development of maritime education, beginnings of Montenegrin maritime affairs and to our famous 19th century captains from various places of the Bay of Kotor. In the showcase, there are models of two training ships: the "Vila Velebita" and the "Nauticar" on which cadets of the Kotor Nautical School made practical voyages on the Adriatic and the Mediterranean seas - the former was in operation before World War II and the latter after World War II.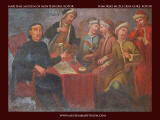 1. Canvas "Marko Martinovic is Teaching Cadets of Peter the Great"
2. Captain Juraj Caric (1854-1927), Headmaster of the Kotor Nautical School and author of textbooks, manuals and fiction related to seamanship.
3. Captain Slavomir Djurkovic from Kamenari (the Bay of Kotor), the first chief engineer in the Montenegrin shipping, with pictures of the first Montenegrin steamship "Jaroslav"
4. Captain Jpvo Djurkovic, the son of Andro, from Risan
5. Captain Andrija Krsanac from Lustica
6. Captain Tripo Milatovic from Stoliv
7. Captain Joko Jaksic from HercegNovi
8. Captain Petar Kaludjerovic from Lustica
9. Captain Stanislav Petrovic from Kotor
10. Captain Joko Djinovic from Bijela
11. Captain Spiro Danolovic from Baosici
Other showcases contain school papers, octants and sextants.