CENTRAL HALL OF THE SECOND FLOOR

On the wall to the left of the entrance door there is a portrait of captain Anton Radimiri, the son of Bozo, the best-known shipowner from Dobrota (end of the 18th and beginning of the 19'h centuries). Next to it are pictures of the sailing ships in his possession: the brigantines: "Cavalier Macedone", "Arabo Felice", "Serpente" and the two-master "Glorioso".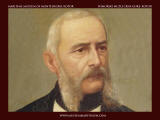 Portraits of the Dobrota shipowners Ivo and Krsto Radonicic are displayed to the right of the entrance together with the p.cture of a sailing vessel in the possession of the Radonicic and Tripkovic families.
On the opposite wall there are portraits of Pavo Kamenarovic, a captain and poet from Dobrota, and of Spiridon Gopcevic, one of the richest shipowners in Trieste in the first half of the 19* century.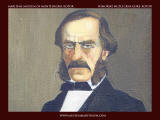 The most distinguished among the portraits on this wall is the portrait of captain Ivo Visin from Prcanj, the first South Slav who circumnavigated the world with his brigantine "Splendido" (the model of which is to the right of the portrait) from 1852 to 1859. Below the portrait there is a certificate on the greatest maritime decoration for peaceful purposes - the white banner "Merito Navali" awarded to captain Ivo Visin by the Austrian Emperor France Joseph (1859). Next to the model of the brigantine is the portrait of captain Federico Belavita of Prcanj, who accompanied captain Visin, as a chief officer.
Various ship's instruments are displayed in glass show-cases:
1. log "barketa" and sandglasses
2. Chronometers, combination of a barometer, thermometer and hydrometer and a barograph
3. "Pulena" - a wooden figure from the bow of the sailing ship "Djurko" from Dobrota
4. Octant, Davy's quadrant, compass, binoculars, sextant and Map of plans of ports and bays -JozefAlezard(1817)
5. Writing supplies, "portolan"
bottles for seafarers' messages, ship's press for copying of official letters
6. Compass with a pedestal and a ship's rudder
Models of ships:
1. The brigantine "Aquila", the work of Tomo Djurdjevic (1883)
2. A Nava from the period when it was in operation
......................................