STEAM-SHIPPING DEPARTMENT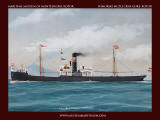 Artistic pictures, photographs and models of ships in this room show development of steam-shipping during the 19lh century, before and between the two world wars, special emphasis being given to the shipping company "Jugooceanija" from Kotor, founded in 1955.
1. Portrait of Captain Milos Vukasovic from Drazin Vrt, document on foundation of the Argentinean shipping company "La Platensa" with photos of the ships "Apolo" and "Minerva" owned by "La Platensa" and built to instructions and design of Captain Milos Vukasovic.
2. Photos of ships of the shipping company "Tripkovic Co", joint-stock shipping company, founded in 1899.
3. Djordje Ivankovic, from Herceg Novi by descent, a Trieste ship owner from the first decade of the 20th century
4. Pictures of ships in the possession of the Austrian shipping company "Lloyd" founded in Trieste, in 1836
5. Captain Tripo Milatovic from Stoliv (junior) master on board the steamships of the Austrian Lloyd
6. Portraits of Captains Filip and Jozo Radonicic from Dobrota, the founders of the first steam-shipping company in Kotor "Bokeska plovidba" in 1892
7. Models of the Austrian Lloyd ships "Archiduca Lodovico" (combination of steam, side wheels and sails) and the steamship "Medea" which were among the first to sail into the Bay of Kotor in 1840 as steamships.
Jugooceanija (Yugoslav Ocean Shipping) is a maritime-trading enterprise founded in Kotor in 1955. By the end of 1983, it owned the fleet of 24 ships of total 411.638 DWT. In this room are kept models of the following ships of Jugooceanija:
1. The "Igalo" - 3,825 DWT, built in 1950
2. The "Kozara" - 39,674 DWT, built in Japan in 1965
3. The "Sutjeska" - 72,149 DWT, built in England in 1976
4. The "Banat" -13,02 DWT, built in Rijeka in 1963
5. The "Admiral Zmajevic" -12,787 DWT, built in Split in 1965
6. The "Kozara" - old type, 8,194 DWT, built in 1927
......................................